September 11th, 2008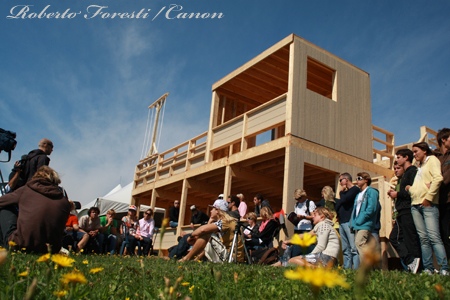 Yesterday we had a crazy day again. First they had to finish the single. They made a skippersmeeting at 6 in the morning. Unfortunately nobody of the officials took care when the sun rises here and so the meeting and the first possible start were hold in complete darkness. Funny - isn't it? There was also no wind and after discussions and discussions they decided to put all riders, which where still in the single into a bus and look for another spot. Finally they found a place and finished the singles.
When the bus came back they straight wanted to start the doubles but they forgot that there was lowtide and so we had to move again to another place with water. They startet the first heat 3 times before they could count it… I was in the 5th heat against Madisson van Huerck. The wind was super gusty. Against all others I took a small kite and did the right decision. The wind picked up a little bit and was perfect for my PrimaDonna 11. I had a good heat and could beat Madi. I'm really happy with that… After this round they had to quit again due to the dropping and gusty wind.
Today we tried to start severall times but it was too light wind all day long. After lunch at 2pm they called it off for today…
Skippermeeting tomorrow at 7:30am